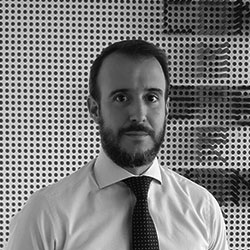 Jordi Castells
Managing Director
Moventis
Barcelona, Spain
Biography
+10 years of experience as Operations Director of Moventis and Manager of several companies in Moventis group.
Member of the Board of Directors of Makkah Bus and SHOTL.
Currently Managing Director for the B2B and B2C business division in Moventis and Managing Director for Moventis Middle East.
Civil Engineer and Industrial Engineer and Exec MBA.
Sessions
Tomorrow.Mobility
#Air Pollution

,

#Automotive

,

#Congestion Charges

,

#Energy Transition & Efficiency

,

#Equity

,

#Low Emission Zones

,

#Zero-Emission Mobility
Tuesday, November 15 - 10:45h - 11:30h (GMT+)
Tomorrow.Mobility
#Air Pollution

,

#Automotive

,

#Congestion Charges

,

#Energy Transition & Efficiency

,

#Equity

,

#Low Emission Zones

,

#Zero-Emission Mobility
Tuesday, November 15 - 11:30h - 12:00h (GMT+)